Master Classes 2022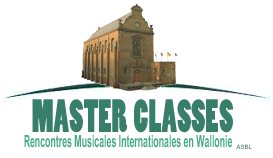 WARNING
The class of Pr Marc Grauwels is complete for 2022. Further enrollments are not possible, unless you obtain special permission of the teacher. Please contact M. Grauwels via his e-mail address Marc Grauwels
Pr Tomasz Tomaszewski has to cancel his participation to the Master Classes 2022, for private and unexpected reason. He will be back for the next session.
COVID INFO
Don't forget that the Belgian health authorities have drawn up rules related to international travel and to meetings (schools, theaters, etc.). For now, there are few limitations to international travelling and the Covid Safe vaccine pass is not essential.
These rules may change at any time. We advise you to check the latest guidelines for travelling between your country and Belgium on the Diplomacy-Belgium per destination website or on the Covid information page.
Master Classes 2022 - August 13 to 20.
Our will and our enthusiasm to pursue the objectives of the Rencontres musicales remain intact. And it is with the greatest pleasure that we are launching the  25th internship session 
The Team is happy to share that in 2022, the Master Classes will be held during the Summer break : check out our 'Calender of activities 2022' page.
The registrations 2022 are open !
 See the enrollment form here